Anterior Process of the Calcaneus Avulsion Fracture
Where is the Anterior Process of the Calcaneum

The anterior process off the calcaneus is located at the anterior (front) portion of the heel bone.
What Causes an Anterior Process of the Calcaneum Fracture
Anterior Process Calcaneus fractures occur from an inversion injury to the ankle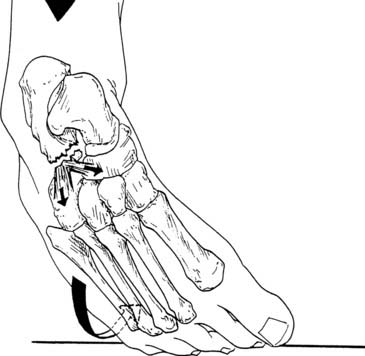 The bifurcate ligament pulls on the anterior aspect of the calcaneum resulting in a fragment of bone being pulled away
Diagnosing the Anterior Process of the Calcaneum fracture
X-ray and ultrasound examination can show an anterior process of the calcaneum fracture.
Ultrasound examination at The Foot and Ankle Centre can assist in diagnosing this problem.
Treatment of an Anterior Process of the Calcaneum fracture

Treatment should be based on the size of the fragment and extent of injury to the calcaneocuboid joint.
A small, non-displaced fracture is best treated non-operatively.
Initially immobilisation in a CAM walker for four to six weeks with weightbearing as tolerated. After the four to six week mark you can convert into a lace up ankle brace as needed for support.
A large displaced fragment or fracture of  a significant portion of the calcaneocuboid joint may require surgical fixation. Fixation of the fragment is necessary to restore
alignment of the articular surface to restore anatomy and minimize the risk of arthritis.
Non- unions of the anterior process can occur, with a persistent fragment seen on follow-up X-rays. If there is no symptoms, then there can be a  return to activities as tolerated.
Those patients with persistent symptoms are considered for excision of the fragment and repair of the bifurcate ligament.
---
The Ankle, Foot and Orthotic Centre's Northcote Podiatrists can help you with all lower limb complaints, including Avulsion fracture. Make an appointment to get your foot and ankle pain under control.
Expert Podiatrists for the treatment of Avulsion fracture servicing the areas of Northcote, Thornbury, Fitzroy, North Fitzroy, Carlton, North Carlton, Alphington, Fairfield, Brunswick, Coburg and Preston